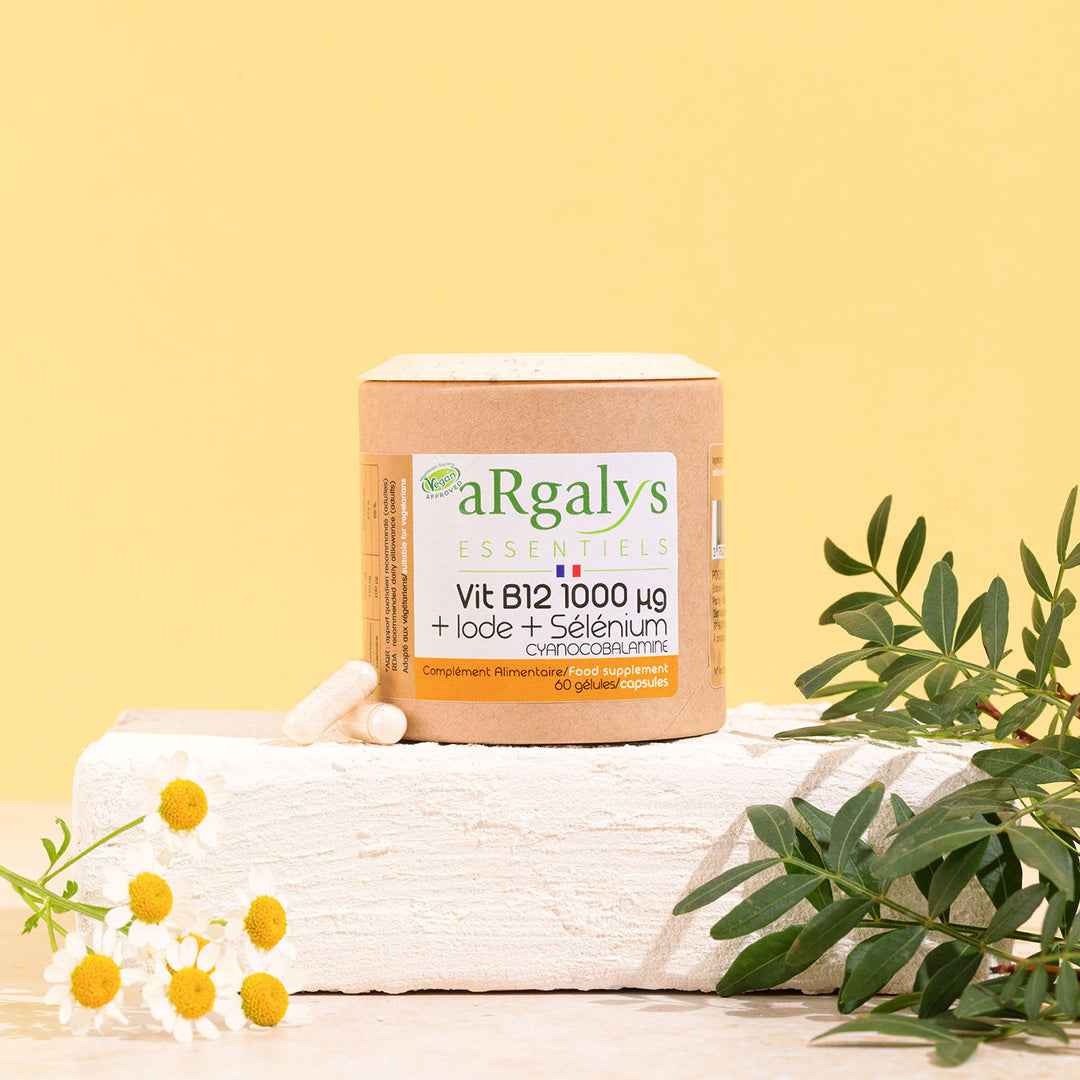 Vitamin B12 (1000 µg) + Iodine and Selenium
7 months of vitamin B12 cure
Only 2 capsules per week
Iodine and Selenium supply
Without magnesium stearate
Vitamin B12 is an essential vitamin for the proper functioning of the body, yet this vitamin is only present in foods of animal origin and in fortified foods.
En savoir plus
Duration of treatment: 6 to 7 months | BBD: 11/25
Buy It Now
Description
60 vitamin B12 capsules certified vegan and dosed with 1000 μg of cyanocobalamin
Each capsule also contains iodine and selenium and is suitable for adults and children.

These capsules have been developed especially for people who follow a vegetarian, vegan or flexitarian diet and with the aim of ensuring complete coverage of vitamin B12, iodine and selenium which are important trace elements and often deficient in diets. plants.
1000 µg of cyanocobalamin:
The vitamin B12 present in each capsule is provided in the form of a stable and most assimilable molecule: cyanocobalamin .
The high dose ( 1000 µg ) per capsule represents 400 times the theoretical daily requirements. This dose makes it possible to limit intake to one or two capsules/week, with a maximum safety margin.
Essential trace elements:
The capsules also contain iodine and selenium.
Iodine, also present in each of the capsules, contributes to good thyroid functioning and its intake also helps avoid deficiencies.
Selenium (essential trace element) is involved in many metabolic functions and also acts to allow better absorption of iodine.
The + product:
1000 µg of vitamin B12 in a single capsule, or 400 times the theoretical daily requirement for easy and economical weekly coverage.
Safety contributions of Iodine and Selenium
Up to 60 weeks of vitamin B12 coverage with just one box

100% manufactured in France (Rhône Alpes Auvergne)

Without magnesium stearate, without coloring

Suitable for children aged 8 and up

Eco-responsible: Pill bottle recyclable by composting and reusable, made from plants and cardboard (without phthalates or endocrine disruptors).

Vegan : certified by The Vegetarian Society
You have not found an answer to your question?