Multi Kid
No controversial additives
No sugar
Essential nutrients
Effective dosage
Vitamins and minerals essential for the growth of children, from 1 year old! MultiKid is a unique combination of nutrients with Calcium, Zinc, Magnesium and 8 essential vitamins (including vitamins B12, D3 and C).
En savoir plus
2 month cure - 1 capsule per day
Buy It Now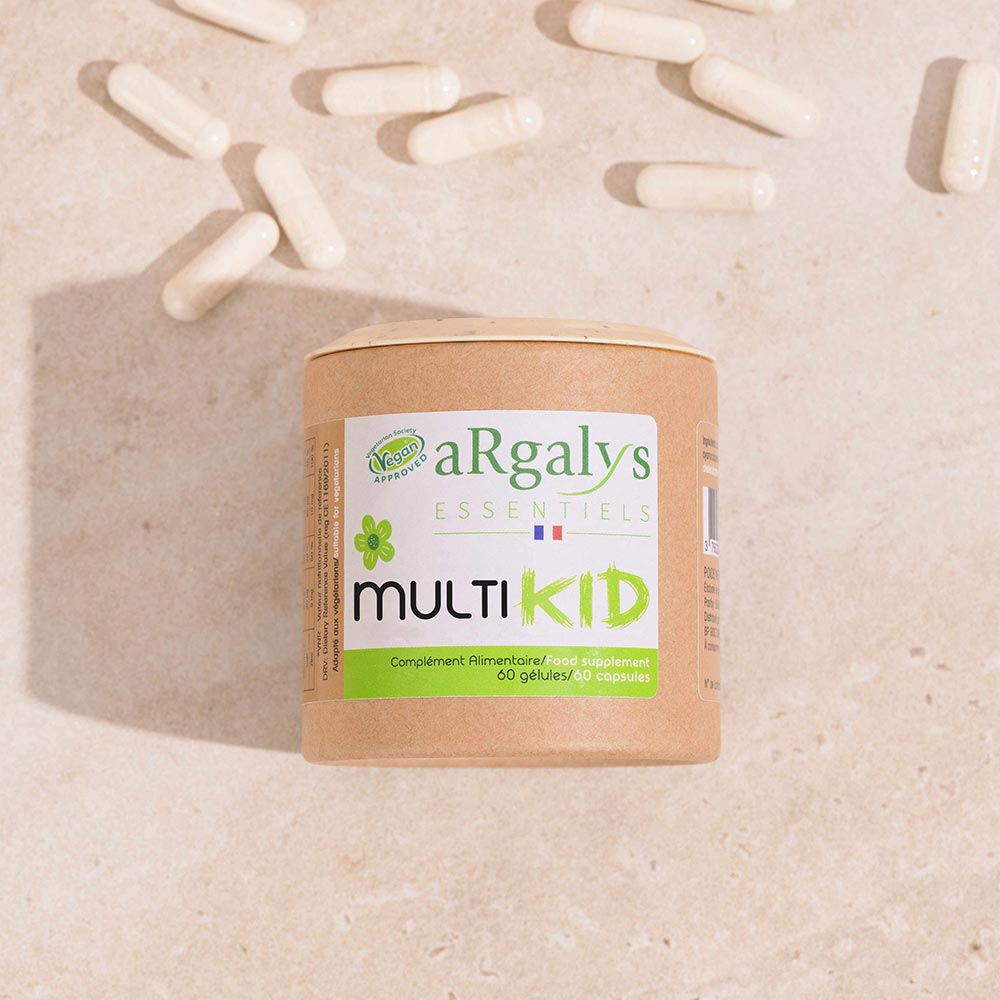 Description
MultiKid – 60 capsules: 2 months of treatment
The MultiKid supplement is the unique combination of vitamins and minerals to meet the micro-nutritional needs of children, ensure their harmonious growth, reduce fatigue and strengthen their immune system.
This formula combines nutrients with a dosage compatible and significant with young age, and without controversial additives, sugars or artificial flavors.
Ingrédients
Calcium 
Calcium is the most abundant mineral in the body and is essential for the growth and good health of children. It is involved in the formation of bones and teeth
Vitamin B12
Vitamin B12 is involved in many reactions in the body and plays a fundamental role in the development of the nervous system, the brain and the body in children and infants.
A deficiency in children can have irremediable consequences on brain development and certain body functions. A recent English study has confirmed the real impact of vitamin B12 deficiency in children on their later cognitive abilities (up to over 10 years old).
Other B vitamins (B2, B5, B6, B9)
They are also involved in the mechanisms of cell multiplication and harmonious growth.
Vitamin D3 (plant origin)
Vitamin D has many roles in the body. Vitamin D promotes intestinal absorption of Calcium and its fixation on bones. It is necessary for the growth and strength of the skeleton. Vitamin D is also involved in immunity mechanisms.
Vitamin E
Vitamin E protects the body's cells thanks to its antioxidant power which acts against free radicals. It is also involved in the synthesis of red blood cells. It is therefore essential for the child.
Iodine
Iodine is a trace element essential for the proper functioning of the body because it intervenes in particular at the level of the thyroid which produces the thyroid hormones thyroxine (T4) and triiodothyronine (T3), very involved in the growth of the nervous system and the skeleton.
Iodine deficiency in children can cause thyroid disorders, leading to reduced cognitive abilities and/or reduced skeletal growth. Iodine intake must be dosed very precisely.
Zinc
Zinc is essential for cell multiplication and differentiation and tissue healing. It also helps strengthen the immune system. Zinc deficiency in children can cause growth disorders and reduce resistance to infections.
Magnesium (Bisglycinate)
Magnesium has a relaxing effect on the nervous system and its deficiency can have a negative impact on the child's condition.
Vitamin C
Vitamin C has a triple essential role during growth: it improves the fixation of calcium and iron and also participates in protein synthesis.
Vegakid can be ideally combined with additional intakes of DHA (one 250 mg capsule every two days) and Iron (absent from the formula to limit interference with other trace elements).
Composition
One MultiKid capsule contains:
Ingredients: Calcium carbonate, magnesium bisglycinate, ascorbic acid, DL tocopherol acetate, zinc gluconate, potassium iodide, cholecalciferol (natural origin, lichen), cyanocobalamin, riboflavin, calcium panthothenate, pyridoxine hydrochloride, folic acid. Additive: rice bran. HPMC Vegetable Capsule.
Assets
Dose per capsule (1 capsule/day)
%NRV (adult)
Calcium
100mg
12.5%
Vitamin B12
10 μg (mcg)
400%
Vitamin B2
0.70 mg
50%
Vitamin B5
2 mg
33%
Vitamin B6
1 mg
71%
Vitamin B9
0.10 mg
50%
Vitamin C
20 mg
25%
Vitamin D3
10μg
200%
Vitamin E
6mg
50%
Iodine
90 mcg (mcg)
60%
Zinc
5 mg
45%
Magnesium
30 mg
8%